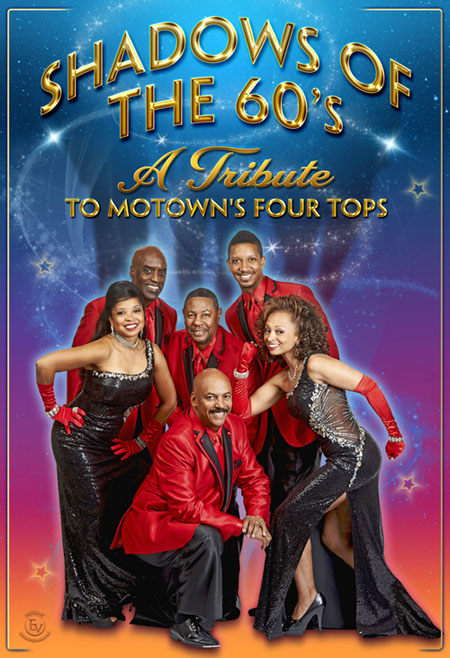 Why are women a part of our Tops Tribute production?
On a number of their hits recorded between 1964 and 1967, penned by the Holland, Dozier, Holland team, the Four Tops were joined by the Andantes singing in the background. The Andantes were a key ingredient to the success of the Motown sound as their incredible vocal harmony and sound were the driving force on the choruses of the majority of Marvin Gaye's hits such as "How Sweet It Is, "I Heard It Through The Grapevine," Pride and Joy," Mary wells "My Guy," Temptations "It's Growing," Supremes "Love Child," and even Jackie Wilson's "Higher and Higher." SHADOWS OF THE 60'S endeavor to maintain that authentic sound by adding our very own "Beehives" to our production. We strive to keep your memories of that unique era in American Musical history intact by performing them just the way you remember hearing them on the radio, all in the original keys and arrangements.
Unlike some popular groups that may have had more than one lead vocalist, the Four Tops had only Levi Stubbs whose vocal delivery was the signature sound of the group. If you sing the Four Tops, you have to adhere to that sound as close as humanly possible.
As one reviewer puts it, "We know we can't ever go back, but Dave Revels' show makes an incredible effort at getting us there. He sings the songs at times eerily close to the sound of Levi's voice. The whole group really sings those songs. If I close my eyes and just imagine, I'm transported back in time, even if it's just for a little while."