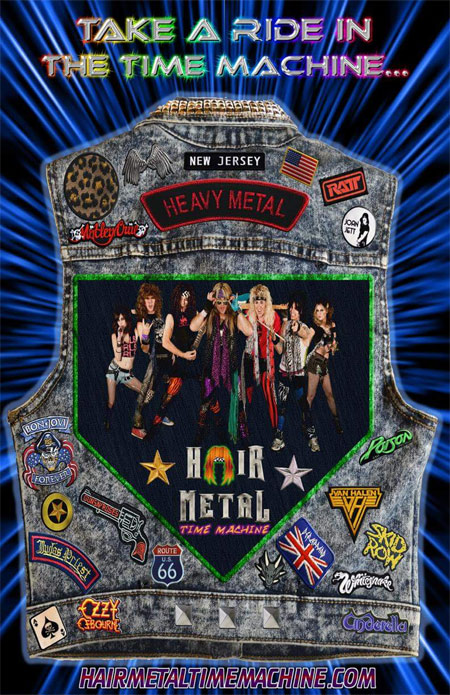 HAIR METAL TIME MACHINE IS AN ALL OUT OVERLOAD OF SIGHT AND SOUND THAT BRINGS THE AUDIENCE BACK TO THE 80'S GLORY DAYS OF DAY GLO AND HAIR SPRAY. WHERE YOU WILL BE TREATED TO HITS BY ALL OF THE BIGGEST NAMES OF HEAVY METAL: BON JOVI, GUNS N ROSES, POISON, VAN HALEN, WHITESNAKE, MOTLEY CRUE, AND MANY MORE
Hair Metal Time Machine is the brain child of lead singer Dave E. Lister, a former member of the band Pretty Boy Floyd who had such hits on MTV as "Rock and Roll (Is Gonna Set the Night on Fire)" and "I Wanna Be With You." Hair Metal Time Machine is the tribute band which is the dirty love letter to the era when rock was one big party – the 1980's.
The band has one mission and one mission only – and that is to bring you back to the glory days of 80's rock. From the colorful glam of bands such as Poison and Van Halen, the legendary anthems of Bon Jovi and Motley Crue, the grinding rock of Ratt and Skid Row, the girl power of Lita Ford and Joan Jett, and even the raw metal of Judas Priest and Ozzy Osbourne, Hair Metal Time Machine wants you to remember the days you used to bang your head to the music on the radio and live out your fantasies through MTV music videos.
Whether you lived the 80's, (just barely survived the 80's), or even if you weren't yet born in the 80's, we guarantee you will have nothing but a good time when you spend your night singing along with us with the songs you know and love. So come on feel the noise and get ready to rock – with Hair Metal Time Machine!