A TRIBUTE TO CLASSIC DOO WOP & PIONEERS OF SOUL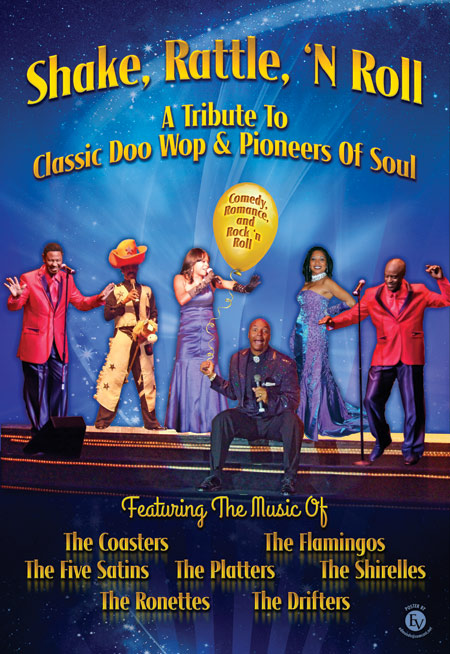 Shake, Rattle 'N Roll! An allstar tribute to the music of classic Doo Wop and Early Pioneers of soul. From the "Tweedlee Dee" girl Laverne Baker, to "the iceman" Jerry Butler , Sam Cooke, Brook Benton, The Drifters, The Toys, Four Seasons, Elvis Presley, Bill Haley & The Comets, Gene Chandler and soul man Joe Tex. Of course, no salute to doo wop would be complete without the romantic and classic songs of groups like The Platters, The Flamingos & The Five Satins.
A fast-paced, energetic and crowd pleasing presentation that includes the audience with every strum and melody sung. Whether singing and dancing from their seats to a dance created especially for the show, or called onstage to participate in a production number, the audience is fully engaged and given an opportunity to personally relive the cherished moments of their lives. Shake, Rattle N ' Roll, more than a show, it's a celebration of our lives.
Special guest stars such Legendary Persuasions Bass man, Jimmy Hayes and others are added to the show from time to time.