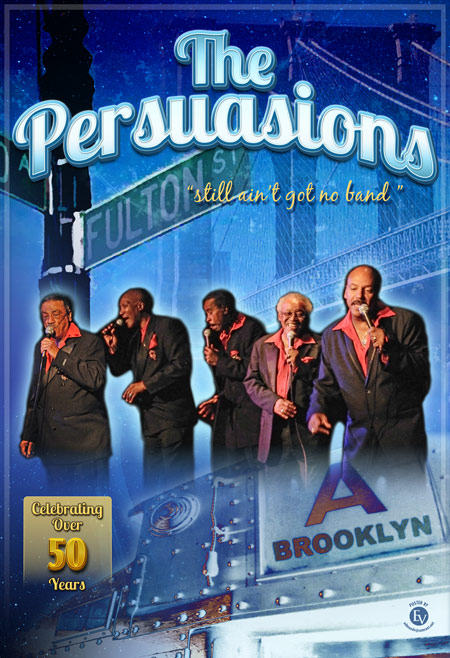 The Persuasions were born in Brooklyn in 1962, singing A cappella under corner streetlights and in subway corridors. Their voices powerfully echoed through their urban terrain, weaving gospel, soul, early rock and jazz into melodic five-part harmonies. Since being discovered by Frank Zappa, The Persuasions have recorded 26 albums to date featuring their uniquely re-imagined arrangements of music by Frank Zappa, U2, The Beatles, The Grateful Dead, Bob Dylan and Barenaked Ladies. Their fans are consistently treated to a vocal buffet of soulful, harmonic and joyful tracks free of any instrumental enhancements, with the exception of their critically acclaimed masterful collaboration with Canadian rock group, Barenaked Ladies in 2016. A stand out on that album is the instrumentalized version of their classic hit, "Good Times" hailed by many as a 'summer feel good, laying on the beach, driving with the Top down song.'
Jayotis Washington, Ray Sanders, Dave Revels, Samuel White, Cliff Dawson and Jimmy Merchant are the voices and talent of The Persuasions today. Sweet Joe Russell, Tuobo Rhoades and Jimmy Hayes were continuously with the group from 1962 until being recruited by the Choir of Angels in Heaven, most recently in 2017. The Persuasions are still blessed to have Jayotis Washington, an original founding member, in the lineup. With vocal arranger Dave Revels at the helm, The Persuasions have performed to sold out shows from across the U.S. and overseas, from Canada to Japan. In recent years, The Persuasions command consistently five star reviews for their records and performances.
The Persuasions were honored by the Brooklyn Borough President with a hometown Proclamation in 2017 commemorating their contribution to the music industry. Their reign as The Kings of A Cappella continues on stronger than ever. The Persuasions soulful A cappella music will have a fresh influence of a sister genre of Sean-Nós, as they record songs of Ireland's Liam O Maonlai on this, their Emerald Anniversary. The Persuasions international reach will also bring them back for a fourth time to The Cotton Club in Tokyo, Japan this July to launch their "Good Times Tour".